Slate Roofing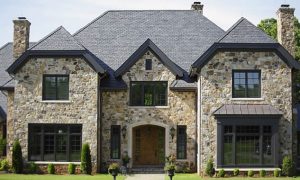 A naturally occurring product, either quarried or reached by tunneling in a slate mine. Most North American Slate comes from Vermont, New York and Virginia. Vermont and New York quarried slate comes in a variety of colors, notably green, gray, black and red. Virginia Buckingham Slate has been continually quarried since the 18th century and has a distinct unfading blue/black color. These North American Slates often last from 70 to 100 years.
Recently, building material suppliers have begun importing slates quarried from foreign countries with poorer quality. While Slate is a naturally occurring product, it can nevertheless vary in quality, so not all slate roofs are the same! Many contractors looking to reduce costs will promote a Slate with inferior mineral deposits and a poor ASTM (American Society for Testing and Materials) rating or none at all. This inferior slate still looks beautiful, but rarely lasts very long, as the slate quickly fades and the inferior minerals leach out and cause the tiles to crack and fall. So if you are considering a Slate roof, be sure that you only accept quality slate with an ASTM S-1 rating.
A quick guide to the ASTM rating system:
Roofing slate is graded as S-1 (over 75 years), S-2 (40 to 75 years) or S-3 (20 to 40 years).
Slate Roofing is cut to order from 1/4″ to over 3/4″ in thickness. Quality slate lasts 70 to 100 years. Installation requires copper nails and accessories.
An engineer may be required to confirm the existing framing and deck can support the weight. Slate roofing typically costs 5 to 10 or more times the cost of standard composition. Slate roofing is considered the highest-quality roofing material available and offers a beauty and longevity not realized by any other product on the market.
If you are considering a Slate roof, or need an expert slate repair, "Trust Your Nest to The Very Best!" and call Sparrow Exteriors TODAY!