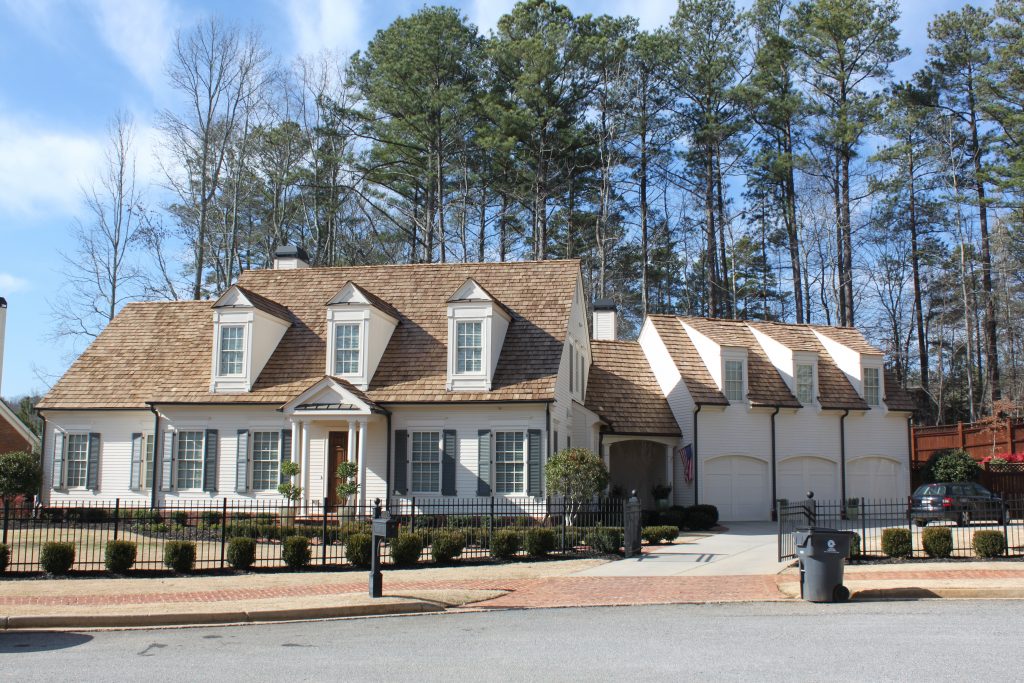 Project Details
CLIENT
Greg D.
PROJECT TYPE
Residential
MATERIALS
Cedar Shake
LOCATION
Kennesaw, GA
DaVinci Roofscapes is a leading provider of synthetic Cedar Shake and Slate roofing tiles.
Known for producing the most authentic-looking Cedar Shake and Slate products on the market, DaVinci tiles are available in a wide variety of colors, thicknesses, and widths.
The tiles are manufactured with an engineered polymer (100% pure virgin resin), which is impregnated with fire retardant and the most advanced UV and thermal stabilizers available, as well as a Class 4 impact resistance – the highest available!
For those who desire the natural appearance of cedar shake or slate, DaVinci's products capture the natural look while maintaining durability at a price point that is often much more comfortable than a heavy shake or quarried slate. Compared to natural cedar shake, DaVinci has a life cycle savings of up to 50%!
Depending on the profile, compared to a Cedar Shake roof DaVinci's Shake can cost about the same or as much as 1/3 to 1/2 more while lasting much longer than traditional Cedar.
Compared to a Slate roof and depending on the profile, DaVinci's Slate products can range from 1/2 to 1/3 less than traditional Slate.
It's easy to see that the authentic appearance, durability, and lifetime cost advantages of DaVinci synthetic roof tiles – plus a 50-Year limited manufacturer-backed warranty – add up to an exceptional value for any discerning homeowner.
As a DaVinci Masterpiece Contractor, Sparrow Exteriors has proven we have the highest level of experience and understanding working with DaVinci's entire line of products, meeting even DaVinci's highest standards!